It isn't piracy! … Not even close.
I have a problem with terms that are not clearly defined. Words like "much", "a lot" or as in this case: "unbelievably high". If you argue that the problem with Android is its high piracy rate based on one developer's subjective statement and general hearsay, it's not an argument.
Before I get to debunk why piracy can't be that big an issue for Android developers, allow me to restate which developers regularly complain about piracy to begin with. There always seems to be the issue that low selling apps see a much larger percentage of pirated copies being used than high volume apps. This is because some pirates download and try out almost everything that's available just because they can.
Interestingly, the badly selling app developers seem to be those who complain the most about piracy. Because it's so easy to blame a failure to sell on piracy. See this fictive graph: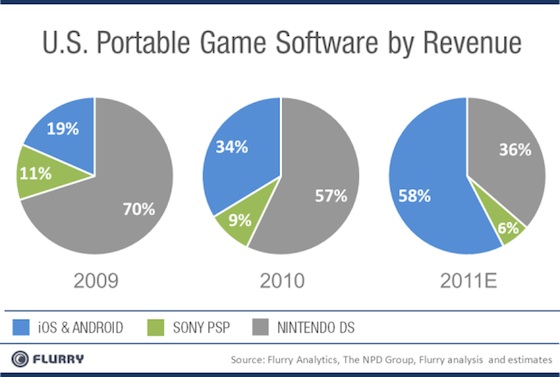 The iOS & Android mobile game revenue has jumped from 19% to 58% in 3 years. While these numbers are only percentages and do not reflect an overall growth in the market, it does make one thing very clear: the dedicated handheld gaming devices are losing market share big time. And just as the 3DS has failed to inspire consumers so will in all likelihood the PS Vita.


Continue reading »
It seems like a no-brainer to most computer-affiniados and gamers: eventually, all video games will be distributed online. The question is only, when?
To retailers this seems to be a whole different story. Most of them are in denial, as I can tell from occasionally reading retail game publishing magazines. They'll be in for quite the surprise in about 10 years, when it will be obvious even to the blind-folded that boxed retail games will soon be a thing of the past. Alongside Blu-ray movies. It is inevitable, as video games and movies alike are moving towards their most natural distribution media format: instant digital home delivery.
Not only will this reduce inventory risks for publishers, it also cuts out the retail middle-man, allowing direct to consumer sales with full control over pricing and availability. With all the advantages of tracking each user's usage and profile information for marketing purposes. At the same time conveniently disallowing or at least automating the consumer's rights to re-sell or lend digital products or issue refunds. Neither Floppy Disks nor Optical Media have offered such compelling advantages to media producers.
But first, let's consult the history of video game distribution before analyzing what it can tell us about the future. One thing I can say with conviction in advance: retail stores selling physical games and movies will be as commonplace in the 2030s as are Vinyl record stores today.