It seems like a no-brainer to most computer-affiniados and gamers: eventually, all video games will be distributed online. The question is only, when?
To retailers this seems to be a whole different story. Most of them are in denial, as I can tell from occasionally reading retail game publishing magazines. They'll be in for quite the surprise in about 10 years, when it will be obvious even to the blind-folded that boxed retail games will soon be a thing of the past. Alongside Blu-ray movies. It is inevitable, as video games and movies alike are moving towards their most natural distribution media format: instant digital home delivery.
Not only will this reduce inventory risks for publishers, it also cuts out the retail middle-man, allowing direct to consumer sales with full control over pricing and availability. With all the advantages of tracking each user's usage and profile information for marketing purposes. At the same time conveniently disallowing or at least automating the consumer's rights to re-sell or lend digital products or issue refunds. Neither Floppy Disks nor Optical Media have offered such compelling advantages to media producers.
But first, let's consult the history of video game distribution before analyzing what it can tell us about the future. One thing I can say with conviction in advance: retail stores selling physical games and movies will be as commonplace in the 2030s as are Vinyl record stores today.
Video Game Distribution Decades by Media Type
My first attempt to delve into this subject matter was to consider if the various media types that were used for video game distribution over the past decades could be matched to one decade each. I assigned one type of storage media to each decade based on what I remembered from experience. Then I wanted to see if these assumptions held true during research. You can find the list to the left.
As I later discovered during research, the list is about right if you were to title it with "Media Types which emerged in that Decade".
The 5.25″ Floppy disk format did not become widespread until the early 80s, the 3.5″ Floppy drive became the dominant distribution media only in the late 80s. The CD-ROM had seen devices fail to use the new medium in the early 90s but eventually took off as widely used video game distribution media in the mid to late 90s – interestingly only once consumers were able to afford CD-R burners.
A similar thing happened to DVD-ROM which didn't take off until the second half of the 21st century's first decade, with the advent of the current game console generation. While Online distribution is already widespread and readily available, it has still a few years to go before becoming ubiquitous. And Streaming is still a future technology, albeit a very promising one with well-defined advantages (flexibility) and disadvantages (latency).
1975-1995: The Age of Magnetic Storage Media
The first available Floppy Disks were 8″ floppies and came to market in 1971. But it wasn't until the release of the Tandy TRS-80 Model II computer in 1979 that 8″ floppies saw widespread use. Due to the physically smaller size and increased capacity the 5.25″ Floppy released in 1976 quickly found success, as did the IBM PC 5150 and its successors using the new format. Thus 5.25″ floppies became widely used in the early 80s and remained in use well into the 90s, whereas the 8″ floppy died out as the Tandy TRS models were discontinued in around 1984/85.
The 3.5″ floppy disks were the storage media of choice throughout the 80s and into the late 90s. Several factors contributed to the 3.5″ floppy disks relatively rapid success within 2-4 years after introducing the format to the market. A new line of popular home computers came to market in 1985: Amiga and Atari ST. Add to that the fact that Apple started to use 3.5″ floppy drives beginning with the Macintosh 128K model. That's the original Macintosh, from "1984":
And the new 3.5″ floppy disks was standardized while the previous floppy disk formats were not. While the virtual disk formats remained incompatible between the various home computers, the production of the physical drives and disks was unified to a common standard. The IBM PC Convertible, an early laptop computer released in 1986, not only was the first IBM computer with a 3.5″ disk drive, it even had two of them!
There has also been the Datasette, which allowed storing digital information on a computer (or audio) cassette. The Datasette was widely used across Europe because the device was relatively cheap, and the cassettes were even cheaper. But its role was mainly one of enabling consumers to copy software cheaply, primarily on the Commodore 64 system. Sales of retail video games on cassette never quite picked up from what I recall. The main issue for lack of adoption was that the entire program had to be streamed into (the limited available) memory because random access of data is not possible with a tape drive.
1996-2025: The Age of Optical Storage Media
In 1978 the Laserdisc impressed a generation of gaming geeks, but ultimately failed as a format. In 1982 the compact disc (CD) had become commercially available for audio playback. In 1985 the Yellow Book standard by Sony and Philips made it possible to store any form of binary computer data on a CD.
Despite the gigantic storage capacity – a CD could store as much data as 450 3.5″ (1.44 MB) floppy disks – the CD technology was only slowly finding its way into home computers and consoles. One contributing factor particularly for the video game industry were the early failures of innovative consoles like the Philips CD-i and the Commodore CDTV, both released in 1991. Another factor was that the CD-ROM format was an entirely new storage format that was rather expensive at the time, and it was read-only. It wasn't until 1995 that commercially available CD-Recorders cost less than $1,000, and it took two more years before CD-R drive and media prices had plummeted enough to become a mass-market phenomenon.
On the other hand the video game industry enjoyed a brief period of time where the excitement for a new optical storage media met the inability to copy said games, at least without adversely affecting their visual quality. It was also the time of "rips", pirated copies of CD-ROM games which simply stripped away excessive video content and other non-vital parts of a game. Those rips proofed that the game industry took far too long to actually embrace the new technology – instead simply adding non-vital content to games that otherwise could have been distributed as disk-based games. Early CD-ROM titles like The 7th Guest and Star Wars: Rebel Assault (both released in 1994) paved the way into a new era, as did the release of the first CD-ROM based console in 1994: the Sony Playstation.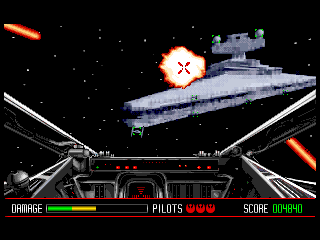 From there, it was only a matter of time and advancing technology to create new optical disc formats like DVD, Double-Layer DVD and Blu-ray which could store increasingly more data. However, the switch to the DVD format suffered from the chicken and egg problem, and an already large install base of CD-ROM drives on personal computers. In particular the PC video game market failed to create exclusive DVD-based games at first – no wonder because the DVD initially could store the contents of "only" about 6.5 CD-ROMs, a small factor compared to the factor x450 transition of 3.5″ floppies to CD-ROM. The video game industry also found it difficult to make good use of the additional storage capacity – a lesson was learned: just adding more video content simply wouldn't grab the gamer's attention anymore.
It took the combined effort of the Playstation 2 and Xbox consoles to make production of DVD media and drives cheap enough and had game developers actually create DVD-sized content. DVD based games slowly became ubiquitous for personal computers as game developers became accustomed to developing for a medium that could store 4.7 GB of data, and developing for multiple platforms more than ever. The fact that the DVD format also added a writable DVD-R media early helped with the quick adoption of DVD drives and burners on personal computers as well.
While the future is exclusively for Blu-ray discs, they may as well be the last optical and physical storage media. The Blu-ray XL disc will sooner or later be able to store well over 100 GB of data but it will also start to seem increasingly ludicrous to sell, rent or share a physical medium to watch a movie that you could just "turn on" in your living room thanks to ubiquitous streaming services.
To this day I do not know of any video game for personal computers which was released exclusively, or with exclusive content, on a Blu-ray disk – and is not a Playstation 3 title. The adoption of Blu-ray as a video game distribution medium is hindered by the common denominator Xbox 360, whose Double-Layer DVD discs can still store a notable 8.5 GB of data. Double-Layer DVDs are also commonly used for PCs. So with Blu-ray drives "only" being able to store 3 times more data (25 GB) and double-layer Blu-ray (50 GB) still being uncommon and relatively expensive to produce, there just isn't a big drive towards Blu-ray games from the game industry.
Other factors that add to the slow adoption of Blu-ray being the 2006-2008 format war with HD-DVD and the massive increase of online distribution methods. The video game industry also has become divided into developing both heavily hit-driven AAA titles and supplying an emerging market of small, cheap to produce, sometimes even fun and usually quite addictive downloadable/online/indie/mobile titles which simply have no need for the extended storage capacity of a 25 GB Blu-ray disc, let alone that of a 4.7 GB DVD.
Nevertheless, I fully expect the next (8th) generation of video game consoles anticipated for release in 2013/2014 to include Blu-ray drives, if only to not defy the meaning of the new console as a "All-Inclusive Home Entertainment System". At the same time this will improve the adoption rate of Blu-ray drives on personal computers. By the end of this decade both video games and movies will be distributed (almost) exclusively either on Blu-ray discs or online.
In short: the video game industry's storage capacity needs have been satisfied with the DVD-ROM, and will not adopt the Blu-ray disc until the new consoles have helped the PC market adopt Blu-ray drives as well. And a big part of the video game industry is dedicated to actually reducing the size of their games, to help online distribution. Blu-ray as a storage medium is simply not being anticipated by the game industry in the same way the CD-ROM was.
Defining and Distinguishing Online and Streaming
To avoid confusion I want to explain what I mean by Online distribution. It is what we know today as Steam, Xbox Live Arcade and the iTunes App Store. You select a game, view the product page, and if you decide to buy the game it is downloaded to your computer's or device's local, non-volatile storage medium (hard disk, flash memory). You can start playing as soon as the download is complete.
Whereas Streaming may refer to services like Gaikai and similar background-downloading-as-you-play technologies. However the ultimate video game distribution media in the 2020s will be a service similar to OnLive, which renders the video game content on remote servers and is instantly available on any device that can connect to the Internet. No data is locally stored, which makes it irrelevant on which type of device you're playing – with the exception of the input method of course. At the same time, Online distribution of games utilize "regular" streaming methods to allow users to run the game right away while downloading the necessary content for the next section of the game in the background.
The important distinguishing factors are two-fold: Streaming is immediately available for use at any time and possibly any device, and it reduces the bandwidth requirements not just for the consumer but also the providers. Instead of having to download an entire DVD or Blu-ray game (or movie) ranging anywhere from 4 GB to 50 GB in size, Streaming would allow the most high-quality content delivered in chunks of several hundred megabytes at a time, or merely a stream of pre-rendered frames as a compressed video. And since most video games aren't played to the end by most users, the game will only stream a percentage of the entire game.
Most importantly, Online and Streaming are timeless technologies. What can be stored on a physical medium is ultimately limited but what can be stored in the cloud (large data centers) is virtually limitless and ever-growing. Or it seems so by today's expectations. One thing is certain: the gap between the amount of data that can be conveniently delivered online and the amount of data that can be delivered on a physical medium is closing rapidly.
2010-****: The Age of Online, Streaming and Clouds
The near future of video game distribution are services like Steam (introduced in 2003), Xbox Live Arcade (2005), PSN (2006), iTunes' (2008) and other App Stores. It is a rather simple and natural evolution of video game distribution that will blossom in this decade. If it were not for upsetting the retailers, most game publishers would make the switch rather sooner than later. All long-term decision-making game publisher executives today are strongly focusing on online distribution of their games and content, while at the same time playing nice with the retailers. After all we can expect the next generation of video game consoles to still support disc based video games.
Knowing that today we can download entire Xbox 360 games via Xbox Live, the only reason why we can't download the latest Blockbuster titles (or any title for that matter) right on the day they're released is because of the retailers. The retailers still have many ways of hurting a game publisher who were to allow immediate online distribution of their console games, such as not stocking their games, or not promoting them. It gets worse if you consider that large retail chains have boxed games in stock that are worth many millions of dollars. If these were to return to the game publisher, that'll hurt them more than it would hurt the retailer. GameStop removing free coupons to the OnLive service from Deus Ex boxes being both a helpless and blatant attempt at exercising their influence.
The important aspects however seem to elude the retailers: with consoles and computers already offering an ever-growing, readily available arsenal of games that can be downloaded by pushing a button, combined with the very, very tempting "deals" you can make on these stores, the retail market already has an infectious flesh wound which will ultimately prove fatal.
By the end of this decade, I expect Online game and movie sales (or rentals) will have overtaken sales of the same content on physical media. When the 8th generation of video game consoles comes to the end of their lifecycle in the early to mid 2020s, stores selling video games on physical discs will become "a weird thing" for gaming enthusiasts at first, and later be just as rare as Vinyl record stores are today. Unless stores like GameStop prove successful with their online distribution platforms (Impulse in GameStop's case) and are prepared to make a full transition from physical to digital products, they'll inevitably become defunct.
The compounding factor will be streaming technology for video games. First introduced as the OnLive service in 2010, the streaming solution will be perfected over the course of this decade. Like most new media formats it will take an average of 6-10 years before the new media is well established on the market.
It took the 3.5″ floppy disc only about 6 years because the physical properties had been standardized, and newly introduced computer models embraced the new drive while quickly becoming very popular. It took the CD-ROM almost 10 years because it was a new type of storage medium (optical), that was sold merely as a costly add-on equipment to personal computers while not offering a killer-application until Rebel Assault and 7th Guest in 1994 and was effectively read-only the first 10 years since it's introduction. Since Streaming doesn't require additional hardware, is quite flexible, and is simply a more effective form of transmitting data to consumers over the Internet, you can expect it to be fully embraced within 6 years (2016) rather than 10 (2020).
There will still be latency issues ten years from now, but there will also be a a new form of video game streaming emerging, not as revolutionary as OnLive but a lot more practical. Consider playing a game like GTA IV except that it's GTA IX and instead of streaming the world around your avatar from an optical disc, it streams its content from the GTA Cloud. Occasionally you'll still see blurred textures as you would on a scratched DVD, but in essence it will be no different than today's game world streaming. You will have to play online even in single-player, but since even single-player has many social features integrated, everyone has come to accept this as an acceptable requirement.
Likewise, map-based games like Modern Future Warfare III will download and cache the current map and its required assets on the device's local storage medium while you're being briefed about the mission in a video sequence, a loading screen or the multiplayer lobby. Input and rendering are still performed locally, to allow lag-free input and (limited) offline play. The use of the Internet as data-providing medium will be completely transparent and there'll be no annoying, disc-spinning noise.
Everything is connected
You don't have to be a genius to predict that within 10 years, practically every relevant computing device will have the capability to connect to the Internet, most of them wirelessly. Knowing that, it becomes absurd to imagine that such devices would still require connecting or inserting a physical media in order to run a certain software, play back a specific movie, or transfer data. It is simply too inconvenient, limiting, requires physical shipping, carries the risk of inventory storage, and most importantly doesn't provide the joy of immediacy and availability to consumers.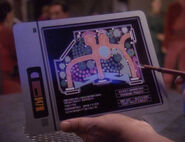 As much as I like Star Trek, and how it shows many future technologies like the PADD that are becoming technologies of today, they did not anticipate cloud storage. Every time someone on Star Trek can't access his or her data because he or she "forgot to bring the PADD" I am disappointed by the writer's assumption that data would be stored on each device locally, instead of the "Gigaquads" of data storage available in the ship's systems to which each device is surely connected wirelessly (via subspace, obviously).
I understand that a lot of consumers to this day find comfort in owning a physical item. Especially if it provides additional physical content in the form of a Collector's Edition containing (usually cheaply produced) paraphernalia that are supposed to enhance the experience, but ultimately only serve to sell the same item at a higher price to fans. In the same light I understand people collecting Vinyl records because that's what they grew up with or became fascinated by. In other words, a niche market for collectors and nostalgic people.
In 10 years Cloud storage will have nearly replaced physical storage such as USB sticks and external hard drives, both for storing documents and backing them up. Moving our data between devices will be as commonplace as moving the data from one Cloud storage provider to another.
You'd think that this may be impractical for large amounts of data, but when I compare the Internet connection I have today (32 Mbit/s down, 2 Mbit/s up) with the one I had ten years ago (1 Mbit/s down, 0.128 MBit/s up) and that of 20 years ago (0.014 Mbit/s down/up), you can imagine that ten years from now I'll be utilizing at least a 200 MBit/s line with a reasonable upstream of >10 MBit/s.
I'm even considering a slowing increase of bandwidth similar to the decreasing orders of magnitude in storage capacity from 3.5″ to CD-ROM (x450) to DVD (x6.5) to Blu-ray (x3 to x6). And the fact that Internet bandwidth capacity hasn't grown with demand in recent years. But just reminding myself that my Internet connection today can deliver data as fast as the 32x CD-ROM drive I had 10 years ago is mind-boggling.
100% digital distribution of digital products is inevitable
The use of physical media to distribute digital products like video games and movies is just a workaround of our days and age. Once network ubiquity and speeds are up to par with (or at least not lagging significantly behind) the storage capacity and transfer rates of physical media, the digital distribution age will begin. And in fact, it has begun. Content providers can comfortably store terrabytes of data on network servers, and the transfer rate of a Blu-Ray movie being 54 Mbit/s is within the range of today's transfer rates of commercially available VDSL and cable connections.
Eventually 99% of the customers will simply move on to using digital distribution simply because it is most convenient and regardless of "no refund" policies or the lack of a physical item to add to the collection on the living-room shelf. And towards 2030, everyone will store just about everything in the Cloud and stream the content from the Cloud, including pirated games and illegally downloaded movies – that's just to illustrate how acquainted and comfortable we will have become with Cloud storage by then.
Certainly just about everything is ready to be streamed to almost any physical device or screen we own past 2020. We won't just watch TV anymore, we'll intercept the TV stream, have it cached locally and watch the show at a later time when it is convenient on any device that we prefer. HD-Recorders with Timeshift, Tivo, Apple TV and other devices will make the use of TV independent from specific air dates and times. More revolutionary will be Internet services with which you can record regular TV shows and watch them online as a video stream. You don't need a physical HD recording device to use such a service.
But even that is too cumbersome because it requires "programming" the recordings. Everything will migrate to services that will allow us to browse a media library and start using the chosen media instantly. Playing games will be no different, and it could very well be controlled through the same device or input method. Or likely even the very same service. Who is to say OnLive will only deliver video games for all eternity?
And approaching 2030 I expect that there are no more retail stores exclusively for video games. Companies like GameStop have either become defunct, or have transitioned completely to online distribution of games. Personally, I wouldn't take bets like that by investing in GameStop stock for the long term. The retail market for digital products is facing an uphill battle that it simply cannot win.
I very much enjoy the learning process, the pushing of boundaries (mine and yours and that of technology), having the freedom to pursue whatever is on my mind, to boldly program what no one has programmed before, and to write about what I've learned. Help me help you by browsing the products in the Learn Cocos2D Store.


2 Responses to "The History and Future of Video Game Distribution"