KoboldTouch has been on sale for exactly 5 months (released: Nov 1st, 2012). Time for a "numbers post".
Let's start with new user signup rates and popular pricing plans before I get to reveal actual and projected revenues.
New User Signup Rate
With a build-up of anticipation, the first month is always noticably on the positive side. If you ignore that first month, you'll notice that signup rate has been very steady from December through February when it suddenly doubled in March.
This chart shows the number of new users who signed up to any of the pricing plans, with refunds already deducted:
The actual "new user" numbers (not including refunds) for each month are:
Nov 12: 44
Dec 12: 15
Jan 13: 15
Feb 13: 16
Mar 13: 33
I believe the reason for the influx of new users in March is two-fold: first I introduced the 1-Month billing plan in Mid-February. And around the same time frame I started hosting the KoboldTouch documentation and KoboldTouch Sales Pitch on www.koboldtouch.com.


Continue reading »
For the past two weeks I've been running a Cocos2D Developer Survey. As of today, 236 developers started the survey and 189 finished it completely. That's 80% despite the many questions they had to answer.
Here are the results with my observations. I started the survey also to see if I was on track with KoboldTouch, and whether certain assumptions hold true. Specifically I had a hunch that cross-platform development is only perceived to have great value or appeal. Let's see if I was right.
Click on each image for full resolution.
Who are you?
I was very curious how many cocos2d developers consider themselves to be hobbyists and indies compared to professionals, who either work for a mobile developer or are taking on freelance jobs as one.
Almost half of those who answered the survey are hobbyists. Nearly 30% consider themselves indies who make a living making mobile games. This is great!


Continue reading »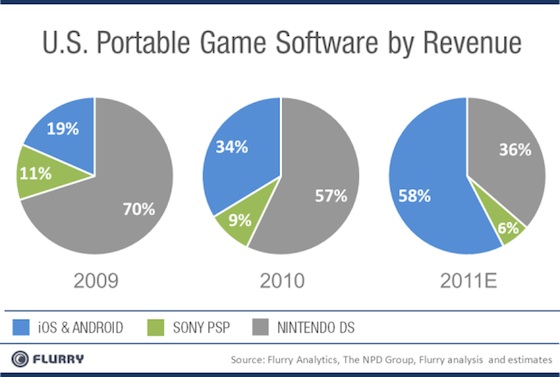 The iOS & Android mobile game revenue has jumped from 19% to 58% in 3 years. While these numbers are only percentages and do not reflect an overall growth in the market, it does make one thing very clear: the dedicated handheld gaming devices are losing market share big time. And just as the 3DS has failed to inspire consumers so will in all likelihood the PS Vita.


Continue reading »
The latest episode of the Cocos2D Podcast has a special guest: Nate Weiss, developer of the commercial iPhone (RPG) Game Kit.
Nate is one of the most enthusiastic game developers I know, his true love being RPG games. When not making games he loves to help others learn game development and makes a living off of that.
And he does all that from the confines of his floating apartment: he lives on a boat!
To top all that the Cocos2D Podcast now has an intro music provided by Marco Neumann aka @marcotronic. Thanks Marco, rock on!
Cocos2D Podcast: Nathanael Weiss (iPhone Game Kit Developer)
PS: I actually forgot to publish this post after I was done writing it. It was sitting here as draft for a week. I'm sorry for the delay!
Today it was exactly 6 months since I made the first sale of my Line-Drawing Game Starterkit for Cocos2D. I just glanced at the number labelled "Total" in the Plimus control panel: $18,479.05 … all of this from a single product over a period of 6 months!
No Product Launch Formula
I wish I could tell you exactly how to reproduce that level of success. I certainly did not implement the widely publicized and so called product launch formula. I'm sure PLF is valuable but the way it's being sold makes it a scam to my mind. Why? Because it's sold only once or twice a year, you can never just buy it, you have to wait for it, and when it goes on sale, people are more than happy to pay an outrageous price for something they could get much cheaper from reading the proper books and applying some common sense. That's just a side note.
I also have to admit, I have no hard data where my customers are coming from other than they're from all over the world. Or why each of them is buying or why some of them are interested but end up not doing it. Some will have followed me for quite a while, some found my website via google, others got wind of it through word of mouth and most recently they may have read about the Starterkit in my Learn Cocos2D book.
For the most part I have only informal data that I can share.
Little hard data
Thankful customers writing me that this was exactly what they've been looking for, and why. Only 3 refunds if I recall correctly, two were expecting something different and another one found Corona shortly after buying and decided to use Corona over Cocos2D, so he wasn't going to use my Starterkit. As far as I can tell, most customers are not companies or teams of people but individual developers.
The level of support requests I received were minimal. I estimate that less than 10% of all customers contacted me for support, and almost all support incidents were solved after exchanging one or two emails. Most issues were caused by the fact that I didn't include Cocos2D with the download, so they were mostly Cocos2D version mismatches and incorrect project setups. I definitely learned from that and will be including Cocos2D in all future versions of the Starterkit to cut down support incidents even more.
Clearly, there are two distinct groups of customers: those who would like to learn how to write a Line-Drawing game, hoping to eventually release it and in any case learn to understand Cocos2D and game development a little better on the side. And then those who plan to publish a commercial Line-Drawing game and want to cut corners, speed up development.
What I learned
For a while I was thinking that you need to have a frequently visited website like mine – over 5,000 visits per week here. You need to be well connected (followed) on Twitter. A Newsletter with many people on it that you can write to at any time is also very helpful. And having been a long time developer at Electronic Arts must surely be reassuring that I know what I'm doing. Next to actually showing that by writing a book. None of that is something you can do in just a couple of days or weeks.
I'm happy to report that you don't need any of that to reproduce the success I've had with my Starterkit.
So skip your job application for EA, scrap the book draft and save your money on yet another type of scam: how to get 10,000 Twitter followers in 30 days. You don't need them. Dan Nelson told me recently that the source code for his BATAK Duel game sold 14 copies in less than a month, priced at $297 (now: $149.99). The product page was just a simple blog post and yet still managed to bring in over $4,000 of revenue in the first month! For comparison, the first 30 days of the Line-Drawing Kit amounted to sales worth $5,370 revenue (before tax and everything).
BATAK Duel gameplay video:

I can also say with certainty that promo codes are a great idea, my 50% sale was a huge success. It generated over $4,000 in revenue and with another $5,000 made in the first month that means that half of my sales were generated by only two events: product launch, and 50% off promo codes. Maybe there's something to the product launch formulas after all? But honestly, I think that's just common sense. If you want to sell something, don't sit around hoping for customers coming to you. Just as much as sex sells (in general), events sell products. Price drops, bundles, freebies, and so on. Get the word out, and do it frequently, and give something away for free – the simplest being information, knowledge, share experiences and data.
And think Steam!
I could have done more of that. But I was writing a book and it was also kind of an experiment to see how sales are affected if I'm not promoting the product in any way for a while. It was sobering to see sales drop to just a few per month three months after launch. Likewise it was exciting to see the reception (and sales) during the 50% sales event.
What I can also say with confidence is that if you offer a products that developers are interested in, they will buy it. And quite a number of developers are interested in commercial source code products to make this a viable market. It's not just game code, it's also components for regular App development that are very popular and lucrative.
The Secret is: Common Sense
And there's another secret I'd like to share: developing an App Store game takes months to complete it, and if you're truly passionate it can take even more months just to polish it, get it right in every aspect. Still your chances of tanking in the market are rather high, the stakes are high but the risks are even higher, even more so the longer you've spent developing your game.
So it's only going to be a matter of time before more developers learn the secret that selling one's source code for a game that's already on the App Store is not just an additional revenue stream, it's a rather lucrative one and one that allows you to cross-promote both products. In fact, suddenly you have two products on two different markets for two different kinds of customers with very little extra effort.
Don't put all your eggs in one basket. Think about it. It makes perfect sense.
Even more so for me because I have always enjoyed working on game technology and enabling game developers to excel more than actually finishing a game, with polished gameplay, an intuitive user experience and fixing all those obscure bugs cropping up at the last minute.
Also, if you need help making sales, I have good news for you: there will be an affiliate store available here in the next couple weeks. If you're interested in becoming an affiliate, give me a shout.
I've been asked to write something about Marketing & PR a lot of times and repeatedly. It seems to be a topic that's often sought after and mostly misunderstood.
Sometimes, it's deceivingly complex, as in "How to get my App featured by Apple on the App Store?". Who the f*ck knows? If you do, be sure to tell everyone about it!
But when you dig deeper, you learn more about the whole "process" and things become a little clearer. I hear you can get lucky if you know the right people at Apple's PR or App Store department. At least that's what I was told personally by someone who does PR and knows someone at Apple personally. Ok, not an option for most of us. I also hear that Apple scans certain websites when looking for App Store features, and for games the #1 site to get reviewed by which in turn might lead to an Apple feature is touchArcade. What else, right?
But getting a review on touchArcade is a different matter altogether. From game industry experience, I can tell one thing that almost guarantees to get your game reviewed/featured: it should be looking awesome! And not just the game, you need a trailer that packs a punch or two, one that's hilarious or one that's simply exciting and really wets your appetite. Not easy to do, but well worth the money if you can outsource it to someone who knows how to do it well. And if your game doesn't have the looks, or can't have them, it must be uniquely interesting. Combine the two, and you got yourself a winner. That ought to be easy, right?
Well, yes and no. If you know what you're doing, it can be easy. And it certainly feels easy in such a case. After all, all the work to set yourself up for success has already been done. But if you don't happen to be working with world-class artists, programmers, designers – what do you do? You can pour everything you have in being creatively unique. To my mind, that's one of the reasons why the Indie space has become so successful. It's not just that being unique and innovative is what the developers want their games to be, it's actually helping them a lot to get coverage in the first place – it's even a necessity, and a way to success!
The excessively long Marketing Link List
But back on topic, I actually just wanted to share a link list with you. It's called:
The Big List Of Indie Marketing And Business Tips
Here's the index … as you can see, it contains a lot more than just links about marketing alone:
Marketing
Press Release Sites
Business
Piracy
Interviews
Game Revenue And Sales
Advertising
E-Mail Marketing
Jobs
Indie Funding
Merchandise
E-Commerce Payment Processors
And one link you should not miss: a free eBook about Videogame Marketing & PR!