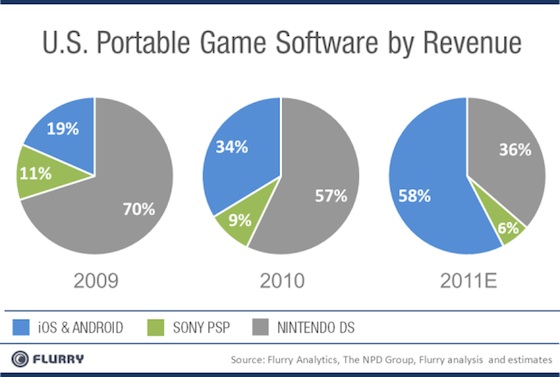 The iOS & Android mobile game revenue has jumped from 19% to 58% in 3 years. While these numbers are only percentages and do not reflect an overall growth in the market, it does make one thing very clear: the dedicated handheld gaming devices are losing market share big time. And just as the 3DS has failed to inspire consumers so will in all likelihood the PS Vita.

To me the reason is simple: both devices have seized to be attractive to most consumers because they are purely gaming devices, not multi-purpose run-any-kind-of-app devices like Smartphones. Oh, and you can't make phone calls with them either.
Given the choice, consumers opt for the sleek multi-purpose devices that offer thousands of apps at very low prices. Compare that to the 3DS and Vita, where most games are sold in the range from $30 to $50. It doesn't take a genius to figure out that you get 10 to 50 games on a smartphone for the same price. A lot more if you consider all the free games and apps.
It also reminds me of the time when Sega released the Dreamcast and pulled it from the market one year later, to become a pure software developer and publisher. Suddenly, we've started seeing their flagship characters like Sonic on other consoles. I expect that Nintendo will eventually budge, quit handheld gaming device production and start to publish their Marios and Zeldas on iOS and Android.
Sony … I kind of expect to just move out of the market altogether. They do not have an exclusive game brand or character that would work on other devices. Uncharted, Metal Gear Solid or God of War on iOS? Never. Little Big Planet? Maybe, but it's not a very successful brand commercially.
Various sources have stated that the next console generation will also be the last. I believe this is true, and it is starting with the handheld gaming devices.
I very much enjoy the learning process, the pushing of boundaries (mine and yours and that of technology), having the freedom to pursue whatever is on my mind, to boldly program what no one has programmed before, and to write about what I've learned. Help me help you by browsing the products in the Learn Cocos2D Store.


2 Responses to "The mobile gaming revolution spells doom for Nintendo 3DS & Sony PS Vita"